Should You Have a Fractional Sales Manager?
July 1st, 2018
Small businesses often start because the founder has a unique skill, product or process that creates a competitive advantage in the marketplace.  Most often, these founders haven't had sales experience and in some cases no leadership experience.  They are great people with great ideas but haven't had the experiences that equip them to be effective sales managers.  That's when a business might benefit from a fractional sales manager. 
Should You Hire a Fractional Sales Manager?
This article provides some criteria and thoughts that may help you determine if your business might benefit from a fractional sales manager.  It will also provide a brief action plan if you decide to pursue a fractional sales manager.
Most salespeople, by their very nature, and independent beings.  They like freedom and control, and they're typically not detailed oriented.  They spend a good part of their time out of the office and not under the watchful eye of the business owner.  Moreover, having a successful sales team takes an organized, disciplined approach that many business owners struggle to do.
Consequently, many say that leading a sales team is like "herding cats".
Following are some questions to ask yourself that will help you determine if a fractional sales manager is the right thing for your business:
Do you have employees devoted to selling?
Is your sales team not large enough to justify a full-time, experienced sales manager?
Are your salespeople proactively prospecting to fill the sales pipeline?
Are your salespeople consistently bringing in new business?
Have you identified the most critical sales activities and behaviors?
Does your sales team have a disciplined, rhythmic method of operating?
If your answers to questions 2-6 aren't positive, you should consider investing in a fractional sales manager.
The rest of this article provides you some knowledge about what to look for if you consider bringing on a fractional sales manager.
We recommend you consider these four criteria when evaluating a fractional sales manager:
Fundamental leadership skills – Access to sales assessments tools – Proven process for leading the sales team – Marketing and lead generation experience
Experience Leading People
Your fractional sales manage must have strong fundamental leadership skills.  Salespeople are among the most important people in a company because they are responsible for generating sales.  They are also among the most challenging to lead and manage.  A good fractional sales manager will have demonstrated experience leading people, not just salespeople.
Good leaders possess unique skills and those skills become the foundation for effective management.  Does your fractional sales manager lead by micro-managing, being threatening and/or using fear as a motivator?  Or, does your fractional sales manager believe people want to do good things, they want to develop and improve, and they want to be led.  The latter is far more effective in today's business environment. 
Sales Assessment Tools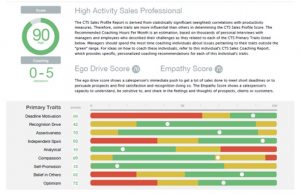 Do your salespeople have a high compatibility for selling?  Too often we find sales teams staffed by people who aren't cut out to be in sales.  A good fractional sales manager will have access to sales assessment tools.  There are a variety of assessment tools out there, so ask about what assessment tools are used by the person you're considering for your fractional sales manager.
At Selling Forensics, we use the CTS assessment.  It is a remarkably accurate measure of person's natural compatibility for high activity sales.  The CTS can be used during the pre-employment process to ensure you are hiring salespeople who have the "DNA" to sell, and it can be used with incumbents to identify their development areas.
Proven Sales Management Process     
There must be a detailed methodology for effective fractional sales management.  This methodology should include the following elements:
Talent assessment for pre-employment and incumbent development
Setting goals and creating, at the individual and team levels, a numerical pathway to achieve the sales goals
Identifying and tracking leading activities, behaviors and indicators
Methods for capturing all the metrics around activities and conversion rates
Developing the skills of the salespeople
Coaching for performance improvements
Having an organized, rhythmic cadence of accountability
There should be sound evidence of these seven factors and how they come together to form a proven process for successful fractional sales management.
Marketing and Lead Generation 
The most frequent shortcoming we see is a lack of consistent prospecting.  In fact, it is the #1 reason salespeople fail to succeed – they just fail to prospect consistently to ensure the sales pipeline remains robust.
Consequently, your fractional sales manager should have experience at marketing and lead generation.  Failure to have this experience may lead to a failure of your sales team to fill the pipeline.  Leadership needs to possess the savvy to get clarity of your target market, to surface competitive advantages, to shape sales messages that resonate with the target market, and to help figure out how and where to prospect.  A good fractional sales manager may not have all the answers for your particular business, but he/she should have a specific process for uncovering these important elements.
Summary
If you are dissatisfied with the effectiveness of your sales team and you don't have the time, interest or experience to lead your salespeople, consider bringing on a fractional sales manager.  When evaluating a fractional sales manager candidate, look for experience leading and growing people, accessibility to sales assessment tools, a proven process for sales leadership, and experience in marketing and lead generation.