Sales process – How to deliver an exceptional B2B sales experience
January 12th, 2018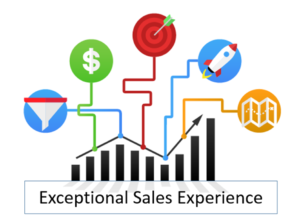 Experience with sales and account management personnel (the sales process) – 53%

Overall strength of the company and the brand – 19%

Product quality and service performance – 19%

Overall value the customer gets for the price (Value-Price ratio) – 9%
Offers unique and valuable perspectives about the typical problems faced by companies within a particular industry

Helps the buyer navigate alternatives to solve those typical problems

Shares experiences from other companies in the industry and provides ongoing advice & consultation about how to solve typical problems – that's right, free consulting

Helps the buyer become aware of and avoid potential land mines related to solving the problems

Educates the buyer about new issues, trends and outcomes

Makes the buying process easy

Achieves widespread support across the organization where there are multiple buyers (decision maker, user buyer, technical buyer, etc.)
Determine what you are best at and find those customers who have problems your solution can solve. If you can bring the best solution to address a problem that exists across many firms, you'll be able to share meaningful unique insights, which will gain you a competitive advantage.

Target certain verticals where the problem often exists that you can solve with the solutions you provide. Developing superior knowledge of how to solve pervasive problems within certain industries will also give you a competitive advantage.

Figure out how to re-frame how the customer thinks about the problem, and prepare to have sales conversations around this new way of thinking. Create some unique insights and integrate them into your sales conversations.

Build a case with the customer about why action is necessary, and prepare conversations around making this case. This should include evidence about why the problem is worth solving, and sharing how other companies have solved similar problems. Additionally, this should include describing the solution, not your solution, but a solution.

Describe how your solution is an effective way to solve the problem you and your customer have identified. Prepare some talking points the include unique insights, and articulates the benefits your solution provides.