Sales Tools – The Power Statement
February 3rd, 2018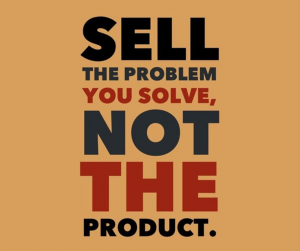 Customer issues addressed – articulating the customer problems you solve/remove, the opportunities you help them capture, and the results you achieve for them

Offerings – what you do, the services/products for which you bill customers

Differentiators – why you are better than the alternatives
Developing your power statement
Your introduction – one or two sentences that enable your listener to place you into a category of product/service providers

Transitional phrase – statement that says to whom you sell so it's relevant for the customer

Customer issues – three to seven emotionally charged words and phrases that represent the problems you solve for your customers

Offerings (this is the least compelling of the story because it's about you, not the customer) – a succinct list of what you actually do…the products/services you provide

Differentiators – two to three things you can honestly declare that make you different/better
Process for developing your power statement
List all the customer issues you solve – ask yourself these questions:
Why did your best customers hire you?

What business problems were they facing?

What results were they looking to achieve?

What pains are your customers experiencing by staying with their current providers?

What problems do you see customers experiencing when doing it by themselves?
Get input from your customers – ask them these questions
Why did you come to us in the first place?

What were you looking to achieve and what issues were you looking to address?

Why do we still have your business?
What are your competitive differences – list the reasons why your company is better/different
List the things you do – the actual products/services provided to your customers
An example power statement (for WebStrategies Inc.)
(Introduction) – WebStrategies is a leading provider of sales and marketing consulting services focused on increasing top line sales performance.
(Transition Phrase) – Business owners and chief sales and marketing officers come to us to increase sales.
(Customer Issues) – Frustrated that their current marketing actions don't generate enough sales leads to achieve their growth objectives, uncertain about what sales and marketing activities they should and should not invest in, upset that their current marketing resources can't get the job done, disappointed in the performance of their sales team, time challenged because they have to deal with numerous sales and marketing firms, and uncertain about whether they have the right people in sales positions;
(Offerings) – WebStrategies provides sales and marketing services that span the spectrum from marketing to lead generation to turning leads into actual sales. We provide a full range of digital marketing services like search engine marketing and social media, sales process training and development, and fractional sales management services – truly a one-stop shop for all things sales and digital marketing.
(Differentiators) – WebStrategies is the only Google Search and Analytics Partner Company in the state of VA. We've developed over the last 12 years a proven process for sales and marketing success, and unlike most firms in our space, we offer a money-back guarantee. We have one of the most knowledgeable sales and marketing teams in the region.